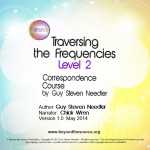 Traversing the Frequencies Level 2
This correspondence course continues teaching the methods to Traverse up to Level 100, where the student can also commence a dialogue with our Source Entity.
This course is a digital download and contains a set of instructions in both PDF and Audio form.
Cost £65
IMPORTANT MESSAGE!
Dear Soul,
Please be aware that I will be on Sabbatical from Saturday 4th June. I will return to work on Monday 27th June 2016
As a result I will not be answering emails, or taking healing/readings appointments during this time or supporting the purchase of my Correspondence Courses during this time.
I will also not be storing emails so I kindly ask that you contact me from 27th June 2016 onward where I will respond to your request/s.
Thank you and Blessings.
Guy