Traversing the Frequencies Level 2 (TTF L2)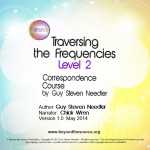 Traversing the Frequencies Level 2
This correspondence course continues teaching the methods to Traverse up to Level 100, where the student can also commence a dialogue with our Source Entity.
This course is a digital download and contains a set of instructions in both PDF and Audio form.
Cost UK£68
To ask a question about this course please contact us.
Purchase by clicking on the Paypal button below.